Da'Quan Bowers Has Arrived
December 4th, 2011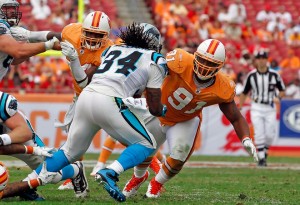 If there was any positive from this curb-stomping the stinking Panthers laid on the spinning-out-of-control Bucs, it was the play of defensive end Da'Quan Bowers.
The Bucs rookie was said to have been a steal in the second round, due to a bum knee that scared off the rest of the NFL, but not Bucs rock star general manager Mark Dominik.
In training camp and early in the season, Bowers didn't appear to be anything special. But about midseason, Bowers began to show flashes in part-time play. In his second consecutive start Sunday, Bowers dominated and now will be hard to take off the field.
Following the game, Bowers was humble and only began to speak of his game when pressed by several members of the Bucs press corps.
In short, he couldn't get over the fact the Bucs lost.
"I don't really brag about personal stats, but I think I had a decent game," Bowers said. "I'd rather have a win than a tackle for a loss."
Bowers and the Bucs didn't get a win of course, but Bowers racked up tackles in the backfield. He finished the game with seven tackles, a sack and a half, one he shared with fellow rookie defensive end Adrian Clayborn as they sandwiched Panthers quarterback Cam Newton.
Of the seven tackles Bowers racked up, five were tackles for a loss.
"It's not important if you don't win," Bowers said. "Our job as players and coaches are to work hard and do everything we can to correct mishaps.
"It's all about a building process. I am getting opportunities and I have to capitalize on them."
Bowers said his vast improvement over the past couple of months is no secret.
"It's just hard practices, hard work, film study and just having my teammates and coaches believe in me and giving me the opportunity."
Bowers denied his rise has anything to do with his knee.
"It's not much of a physical aspect, it's more of a mental thing, watching film, understanding the game plan. I've always been comfortable. I just had to wait my turn and be patient."