Chucky Will Not Coach In 2012
December 31st, 2011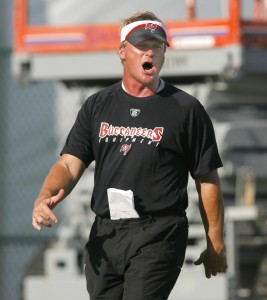 Former Bucs Super Bowl-winning coach Chucky has long been rumored to be stalking the sidelines for some team in 2012, once his $5 million a year contract with the Bucs was off Team Glazer's books.
Apparently, that will not happen. Chucky spoke with eye-RAH! Kaufman of the Tampa Tribune this afternoon and said he will still be assaulting innocent football fans as a television analyst on Monday Night Football.
Dousing speculation he plans to return to the NFL sidelines, former Buccaneers coach Jon Gruden told the Tampa Tribune he is remaining with ESPN as an analyst for its "Monday Night Football" broadcasts.

"I love my job and I'll be back at ESPN with the guys," Gruden said. "I'm not going anywhere."

Gruden, 48, has spent the past three NFL seasons in the ESPN booth with fellow analyst Ron Jaworski and play-by-play man Mike Tirico, receiving two Sports Emmy nominations. In October, Gruden signed a 5-year extension with ESPN.
Bad for football fans watching on TV, bad for some NFL team and, frankly, bad for the NFL that Chucky is not coaching. Joe's just going to guess that no NFL team was serious in vying for Chucky's services, otherwise he would be coaching.
It's easy to say one is not interesting in returning to coaching if no team is interested in hiring him. It's like Joe saying he's not interested in a late-night wrestling match between the sheets with Marlana Aref into the small hours of the night.
Please, spare Joe the nonsense that Joe hates Chucky. He does not. Joe has long defended Chucky against the slander the Dungyphiles hurl his way — that Chucky won with Father Dungy's talent, which is as insulting as it is inaccurate.