Barber Hints At Retirement If Morris Is Ousted
December 29th, 2011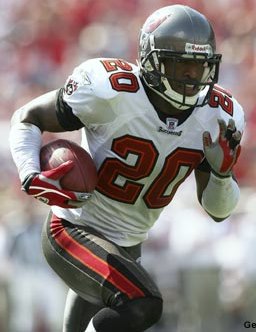 There is no question that one of the biggest knocks on embattled Bucs coach Raheem Morris has been his close social relationship with a handful of Bucs players.
Morris needs to separate himself from the players in social circles and be more a boss than a bud, so Morris' vocal critics say.
But that bond between player and coach is important to some. In talking to Woody Cummings of the Tampa Tribune, veteran Bucs cornerback Ronde Barber said if the Bucs jettison Morris next month, it may force Barber's hands into retirement.
"I would be lying if I didn't say that," Barber said when asked if his future was linked to Morris'. "That's somewhat true. But we'll see. Ideally, I'd love to be back and play with (Morris), and (secondary coach) Jimmy (Lake) and (linebackers coach) Joe Baker. They're great coaches and they're fun to be around. They understand me and I understand them. So I imagine that will have something to do with it."
Well, Morris' future is indeed in peril but there is still a window of a chance that Morris could return. Joe, however, would be totally flabbergasted if Baker is retained.
The Bucs linebacker corps has to be among the worst in the NFL, and if not worst, this despite some solid play from rookie middle linebacker Mason Foster.
If a team that is on the cusp of setting a gruesome franchise record for allowing the most points in a season, largely because of bad linebacker play, allows the head coach or defensive coordinator to skate (Morris is also the Bucs defensive coordinator), then surely the linebackers position coach must be the one to fall on the sword.
Morris returning for the 2012 season is not out of the question.
Baker returning next season would be as shocking to Joe as if Rachel Watson herself knocked on Joe's front door tonight wearing her old Bucs cheerleader get-up, with a bottle of Tanquerey in her hand no less.