Weak Head Coaching Pool Helps Raheem
November 19th, 2011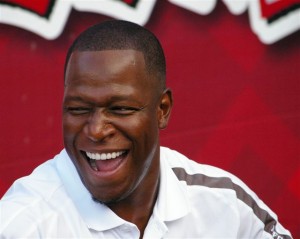 There's been plenty of local speculation about Raheem Morris' future, if the Bucs continue their horrid tailspin. But what are national insiders saying?
Perhaps the busiest and best-connected NFL analyst in the business, Pat Kirwan, offered an insightful take this week on Raheem's future during an interview on 770AM in Fort Myers. Kirwan's a former assistant coach and personnel executive, who now works for CBSSports.com and CBS NFL Today, hosts a show on Sirius NFL Radio, and writes regularly for NFL.com and more.
In Kirwan's mind, Raheem is sure to return for the final year of his contract because this will be a poor offseason for head coach hunting.
"Raheem, he's very bright. I've known Raheem since he left high school and went on to Hofstra to play," Kirwan said. " To me, Tampa Bay, they've had a stadium issue for a while now. And that stadium issue isn't going away unless they get a big-time marquee name coach in there that can draw people back to the stadium. And if he doesn't win, they'll be right back outta there.

"I don't think they're going to make a move. I think they're going to try to do it one more time with Raheem. At the end of the day, and this is coming from a couple of people that are in search of a head coach, they're real nervous about the list this year. Gruden's not going to do it. Cowher's not going to do it. Jeff Fisher will do it, from what I know. And after that, you know, where are we headed? Brian Billick.

"But the assistants in this league, not a very strong list this year. So I would say Raheem's going to get another shot at this."
Interesting to hear the buzz about the head coaching pool, but Joe's not sure Kirwan's logic necessarily fits. After all, the Bucs canned Chucky and hired Raheem, which nobody saw coming.
Joe still thinks it's far too early to be talking about a new head coach. If the Bucs can start playing legitimate football consistently and win a few more games this season, there's no way Team Glazer is going to send Raheem packing.