Tom Landry, Chuck Noll, Raheem Morris
November 18th, 2011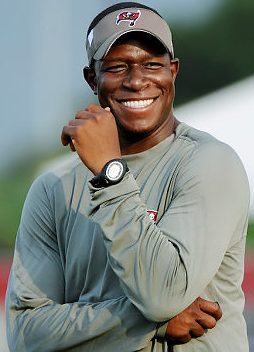 Joe has seen it literally daily on this very corner of the interwebs from the day Raheem Morris was announced as the Bucs coach on that January Saturday afternoon in 2009: for reasons not totally known, a segment of fans loathe Raheem Morris, hate Raheem Morris and will not rest soundly until the day Raheem Morris cleans out his desk at One Buc Palace.
Well, Joe's got some ugly information for this sect of fans by way of Pat Yasinskas of ESPN: Morris has more wins in his first three seasons than some of the iconic coaches in NFL history who have their busts in Canton.
Morris is 17-24. That's' not great, but Morris already has more wins than some very big names had in their first three seasons as a head coach. Tom Landry had nine wins. Jeff Fisher had 16. Chuck Noll had 12 and Mike Shanahan had 16.

Morris and the Bucs still have seven games left to play. That means he's in striking distance of the win totals put up by Bill Belichick (20), Bill Walsh (21), Marv Levy (19), Bill Parcells (22) and Dick Vermeil (18) in their first three seasons.
Imagine what the history of the Steelers or Cowboys would be if not for Noll and Landry, respectively?
Does this mean Morris will guide the Bucs to multiple Super Bowls? Odds are no, but that does mean Morris perhaps should be cut some slack.