The Ugly Fourth Quarter
November 28th, 2011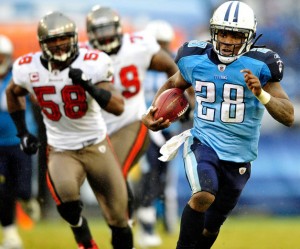 After a promising game against the Super Bowl champs last week, the Bucs have reverted to their ugly habit this season of playing a bad fourth quarter.
The Bucs couldn't keep their heads on straight when they seemed to be in the middle of a potential game-winning drive, nor could the Bucs stop the Titans.
Veteran sports columnist Gary Shelton of the St. Petersburg Times breaks down just how miserable the fourth quarter was for the Bucs Sunday.
Time was, these were the situation that defined Freeman. He was the king of the fourth quarter, and he seemed to have a knack for snatching away a game from the other team in the final seconds. In the final 21/2 minutes Sunday, however, Freeman had two chances to rescue his team, and he failed both times.

No, no quarterback pulls his team out in the fourth quarter every time. But Freeman has had four shots at a comeback this year, and he has succeeded once. It's another instance where this team has not improved on last year's performance.

Yeah, yeah. You could blame this on turnovers if you want, because the Bucs had five. On the other hand, the Titans had four. You could blame it on an official who wouldn't measure before a fourth-and-1 play at the end. On the other hand, the Bucs couldn't even handle the center snap on the ensuing play.
The team is in a tailspin. It is not tackling well. It fancies the pass over using one of the NFL's better running backs behind a bruising run-blocking offensive line. It makes mind-numbing mental errors week after week depsite the head coach's weekly insistence it is a priority to stop it.
Right now the Bucs have too many issues to try to solve in scant weeks. There are only five games left. A playoff berth now is akin to Santa Claus coming down the chimney.
In Joe's eyes, the next five weeks should be used to figure out who remains on this team for 2012 and who should be jettisoned and what positions should be focused on for next year's draft.
If certain people continue to make the same mistakes game in and game out that the head coach rails about weekly, maybe said players should be making these same mistakes next season wearing a different color uniform in another city?