Stretch Run Important
November 18th, 2011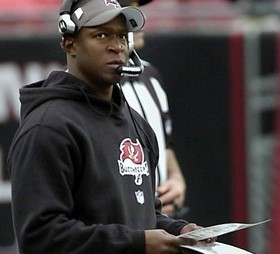 The thumping of the war drums is getting louder from a circle of fans, and it's not the drum circle on the beach on Sunday afternoons at Treasure Island.
The drums are for a new coach.
There is a sect of Bucs fans that never accepted Raheem Morris from Day 1. Their yelps are growing louder with the Bucs seemingly free falling.
Now let Joe be crystal clear: He is not advocating a change in leadership. In fact, barring a complete meltdown, Joe doesn't see Team Glazer making a change.
But like a Bucs win cannot be predicted at Lambeau Field Sunday, nor can Joe predict what Team Glazer is doing in the background, or what their mindset is. But eye-RAH! Kaufman is of the mind that how the team hustles will determine Morris' job security.
The Glazers have not proven to be impulsive owners when it comes to making a change at the top. Tony Dungy lasted six years, Jon Gruden walked the Buc sidelines for seven seasons, and Morris is only one year removed from a 10-6 finish.

But when it comes to lack of effort, head coaches are vulnerable. You could argue some Bucs quit on Morris in the Houston game, and you can be sure the Glazers will be watching very carefully the rest of the way to gauge how hard the Bucs are playing.

Toward the end of his 3-13 first season, Morris could point with pride that the Bucs kept playing hard in December. Sunday's debacle against the Texans might be an indication that his message is no longer getting through to the league's youngest club.
A lot of this talk of Morris' job security will vanish if the Bucs pull off the improbable and beat the Pack. As Joe pointed out earlier this week: At some point, it stands to reason the Packers will lose a game. The Bucs are on a losing streak. No one believes the Bucs won't win another game. The Packers breezed through Minnesota Monday and on are on a short week and likely looking past the Bucs to Detroit on Thanksgiving.
In the immortal words of Joaquin Andujar, "Youneverknow."