ESPN: "Very Bad Team" Around Freeman
November 18th, 2011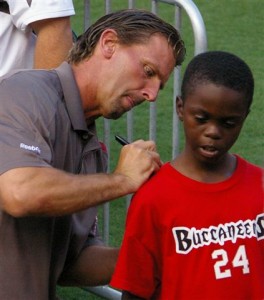 Nothing steams Joe more than hearing chatter from those who blame the Bucs' woes on a lack of talent.
Sorry. Joe can't let those through. It's a bogus take, floated this week by beat writer Stephen Holder and now ESPN NFC South blogger Pat Yasinskas. The latter, in an ESPN live chat today, says Freeman's struggling because he has a bunch of second-rate talent around him.
CC (Atlanta): Aaron (Bay Area) is right. Freeman should get alot more heat. You just make excuses for him. Funny… you have no problem blasting Matt Ryan despite a porous OL. And Ryan has been alot better than Josh this season.

Pat Yasinskas: Yeah, Ryan has been better than Freeman this year. And I don't think I've blasted Ryan very much. My point on Freeman is this — have you seen what's around him? A very bad team in a lot of ways.
First, the Bucs have a punishing 1,000 yard rusher in the backfield that they refuse to use with regularity.
Second, the Bucs have a very high-priced offensive line with two guys, Donald Penn and Davin Joseph, universally viewed with upper-echelon regard. That's a damn good line in front of Freeman.
Third, Mike Williams was voted the 80th best player in the NFL by his peers for a reason this offseason. Anyone who watched the 2010 combine could see he was the most talented college receiver behind Dez Bryant, and he proved it his rookie year. He's had too many drops this season, but Williams is not a "bad" player by any stretch. Arrellious Benn is a legitmate threat used all too sparingly. Preston Parker is the best slot receiver the Bucs have had since Ike Hilliard, far better than Sammie Stroughter last season.
Joe could go on, but the point is this offense with largely the same cast and coordinator moved the ball very well the second half of last season and churned up fat yardage on the ground. They even seemed to have an identity.
It's not a "very bad team" around Freeman as Yasinskas claims. Joe has no explanation for Blount's use, or lack thereof, or why the Bucs haven't adapted to the increasing man coverage on their receivers. But Joe's quite sure the answers aren't that all these guys have turned into a pile of crap. The coaching just isn't getting nearly enough out of them.