Raheem Reacts To Game Film
November 14th, 2011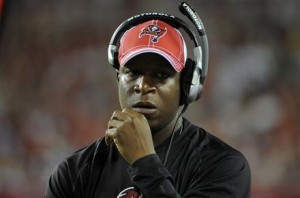 Defensive coordinator/head coach Raheem Morris faced the media this afternoon and Joe's got your need-to-know.
Raheem didn't use the "quit" word but explained that "we had some issues with effort" on the two big plays allowed for Texans touchdowns. He then called them "uncharacteristic loafs." He also said the Bucs were not physical "as far as competing for the football."
Raheem promised a week of practice as physical as he can make it and emphasized that his wide receiving corps, especially, needs that kind of work.
The head coach said Jeff Faine, Kellen Winslow and Ronde Barber came to speak to him 1-on-1 after the game re-pledge their allegiance. "They didn't like the fact that I tried to take [the blame] on myself," Raheem said.
On the upside, Raheem said Albert Haynesworth "played well" in his "47 snaps" and was communicative about his on-field mistakes. Raheem also praised Michael Bennett and Geno Hayes.
Joe agrees with Raheem's take on the Packers being the best possible next opponent for the Bucs.
There are no moral victories, but if the Bucs can't at least play decent football against the Packers, regardless of the result, than the season hanging by a thread is completely shot.