Keep Pounding With LeGarrette Blount
November 3rd, 2011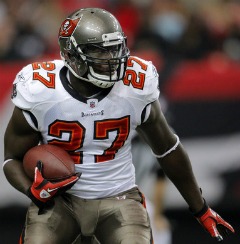 A Bucs fan happened to call "Movin' the Chains" Tuesday to discuss the Bucs-Saints game with co-hosts Pat Kirwan and Tim Ryan, heard exclusively on SiriusXM NFL Radio.
In short, both Kirwan and Ryan suggested the Bucs run LeGarrette Blount early, often and constantly.
Tim Ryan: I'll tell you how to judge how the game is going. Chart the game. The more the Bucs are in passing situations, third-and-long, the worse it will be for them. That gives [Saints defensive coordinator] Gregg Williams a chance to dial up his blitzes.

Pat Kirwan: The Saints are not strong on their rush defense. I'd run the big guy, LeGarrette Blount 20-25 times. Give him the ball. What are they averaging, giving up 5.5 yards a carry? Run the big guy. If Blount gets the ball 25 times, he should have 150 yards.

Ryan: I'd even run on passing situations. Run right at their blitzes, gash them.

Kirwan: Yes, once you get to the second level with Blount, it will be all over.
Joe believes this is absolute sound advice. Run at the Saints til the wheels fall off. There's a reason Steven Jackson, nearing the end of his great career, went crazy on the Saints defense last week: Because the Saints can't stop the run.
The way Josh Freeman is struggling of late, it's a no-brainer to keep the ball on the ground.