Josh Freeman Wearing A Thumb Brace
November 3rd, 2011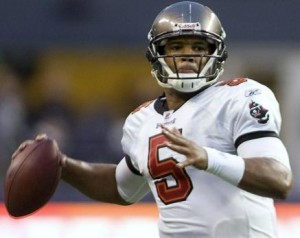 Joe has been stating how real football fans — men — have no excuse not to have the NFL Network. It's that simple.
Viewers of the NFL Network learn all sorts of things, sometimes things not said, like yesterday.
While doing an interview with the NFL Network, Bucs quarterback Josh Freeman was caught wearing a thumb brace on his throwing hand.
As Stephen Holder of the St. Petersburg Times pointed out on Twitter and on his newspaper's website, Freeman in practice showed no signs of an injury and his passes seemed normal.
Apparently, per Holder, Freeman's right thumb was dinged in the ugly loss to the Bears on British soil.
This, obviously, bears monitoring during the Saints game and suggests to Joe even more strongly that the ball should be put in the hands of LeGarratte Blount.