"Jon Gruden Is Inherently Dishonest."
November 1st, 2011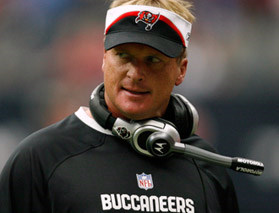 Last week Joe brought word of former Bucs wide receiver Meshawn Johnson unloading on former Bucs coach Chucky, both co-workers at BSPN.
Then, Chucky reacted with thin skin claiming he has thick skin.
Joe thought this was a felonious form of BSPN-on-BSPN crime.
A few days later, this topic came up amid discussion on the "too-Jewish" sounding King David Show, co-hosted by former Bucs quarterback Shaun King and Toby David heard weekdays on WQYK-AM 1010.
King, who is one of but three quarterbacks to lead the Bucs to an NFC title game, was in the locker room to see first-hand the vile that existed not just between Meshawn and Chucky, but other players. So King decided to detail some of the friction that went on between Chucky and his players and why few, if any players, respect Chucky.
Part of King's undressing of Chucky was an explosive comment, "Jon Gruden is inherently dishonest." King even invoked the name of Nick Saban into the discussion.
The full audio clip of the subject matter can be heard by clicking the little button below.
Audio courtesy of WQYK-AM 1010. [Hat tip Justin.]
[audio: ShaunKingonGruden.mp3]