Blount Was "Out There Calling The Protections"
November 1st, 2011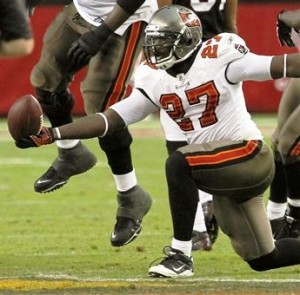 Today Josh Freeman referred to the "monkey on LeGarrette's back."
The QB was talking about LeGarrette Blount's reputation of not being a capable third-down back. Speaking at his news conference today, Freeman said any thought of that is ancient history.
"He can do it. We're out there doing a walk-through [today] throwing it around. When we got into the pass and the blitzes, I mean, [Blount's] out there calling the protections, knowing where he's going," Freeman said. "It's huge. Huge strides that guy's made."
Joe's confident Blount can get it done, as well. Given the alternative, Joe suspects he'll get ample opportunity to prove himself Sunday.