"He One-Upped It This Week"
November 29th, 2011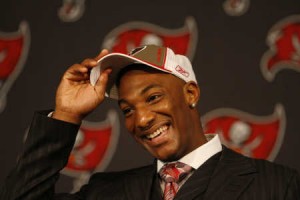 As Joe wrote immediately following the Bucs' loss in Tennessee, the Bucs' secondary played a standout game Sunday.
Head of the class, per Raheem Morris, was Aqib Talib, so the head coach said on The Raheem Morris Show last night on WDAE-AM 620.
"I said Aqib Talib played his best game last week versus the Packers. He one-upped it this week," Raheem said. "He came out this week and really played fine football. He caused a fumble, forced a fumble, got it back. He caught an interception. He scored. I believe he had five or so tackles, two knockdown passes. He's playing lights-out right now."
Raheem went on to note that Talib was covering Nate Washington, the Titans' top receiver, who was held to one catch for 12 yards. In Green Bay, Talib clamped down on Greg Jennings.
On Talib's strip of Chris Johnson, Raheem said, "I thought I was looking at Charles Woodson" and praised Talib for his "form-fit" hit "like a safety" to cause the fumble.
Joe's happy to see Talib playing well, and Joe has to believe that Talib is finally healthy from a knee injury that slowed him earlier in the season. It was after the debacle in San Francicsco that Raheem said of Talib, "I don't know how he played, but he did for his team."
This final stretch of the season is huge for Talib. He's got to stay healthy. Late-season injuries have knocked him out the last two years. It still pains Joe to remember cornerback Derrick Roberson replacing Talib in Atlanta back in 2009 and make a key penalty for Atlanta's winning score.
If Talib can finish this season playing like he is now, then it's fair to say he's finally reached his potential. Next up for Talib is Steve Smith, who already has over 1,000 yards this season.