Football At Mugs Grill & Bar; $6.25 Pitchers
November 27th, 2011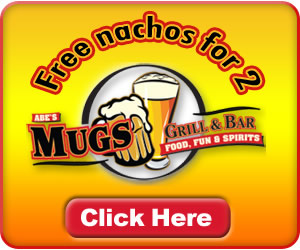 Joe loves food, and Joe is proud to say that Mugs Grill & Bar in Clearwater serves up some of the finest quality and value in the Tampa Bay area.
The wings at Mugs Grill & Bar wings have won more awards than Derrick Brooks, and everything on the menu is extraordinarily fresh and homemade. And if you find a colder draft beer, you're lying. Mugs has great domestic pitchers for only $6.25 during all football games.
Joe loves the wings but often grabs Mugs' phenomenal filet mignon tips, real grouper sandwich, or chili cheese fries with bacon.
Don't forget to join the Mugs E-Club for free nachos for 2 (click above), plus great discounts and deals all year long. You'll be glad you did.
Mugs also is a dynamite spot to watch all college football, MLB and NFL games.