Another Word On Raheem's Job Security
November 20th, 2011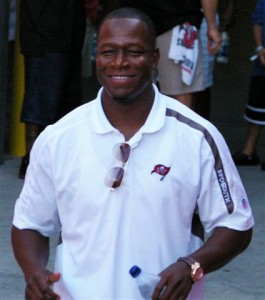 Joe gets that the Bucs have underachieved this season and that today's loss is merely a ray of hope that the Bucs can salvage a decent 2011 campaign.
With all the chatter about Raheem Morris' job security last week, Joe wrote a post a couple of hours ago saying today's game helped his cause. But Joe sees the bile in the comments section and reads what's in his inbox, so Joe wants to clarify for those reading far too deep into Joe's post.
So here's the damn clarification.
Look, Joe has no opinion on Raheem's ultimate job security because Joe believes the jury is out on this season. It's a body of work hardly finished. Yeah, if the Bucs were 2-8, Joe would be shopping for pitchforks, but that's not the case. Joe was simply stating that today's loss actually helped Raheem's cause, if only for a week. If Team Glazer has a secret chalkboard in their cone of silence, this one goes in the "Keep Raheem" column.
Ultimately, as every Bucs fan knows, Raheem will be judged on the final results for 2011. You want Joe to put a win total out there? No problem. Given what's transpired to date season, Joe can't imagine Raheem returns if he only wins two more.
So that's where Joe sits on Nov. 20.