"We Don't Have Those Little Bickering Spats …"
October 28th, 2011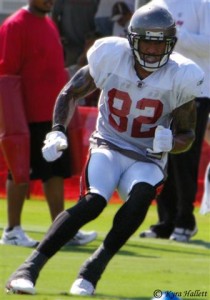 Seemingly contradicting what Joe and other fans saw with their own eyes, Raheem Morris is emphatic when he says there's nothing personal or problematic about the heated communication between Kellen Winslow and Josh Freeman.
In fact, when asked by Rock Riley of WDAE-AM 620 about the alleged problem between Freeman and Winslow, Raheem said that chatter is something fabricated by observers.
"We don't have those little bickering spats that people like to make up," Raheem said.
The interview was taped locally this week and aired yesterday.
Maybe Joe's naive, but Joe believes there is a problem between Winslow and Freeman. But Joe puts the blame squarely on both of them.
Winslow needs to dial it back, and Freeman needs to mature so he doesn't react, in part, by trying to force the ball to Winslow repeatedly when it's not there.
The situation has reached the point where it's a classic scenario for a coach to step in and fix before it does become far more disruptive than a "little bickering spat" could ever be.