Need To Make Plays For Josh Freeman
October 28th, 2011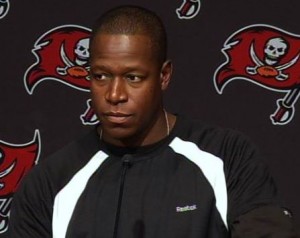 Earlier this week battling jet lag, Bucs coach Raheem Morris made his weekly appearance on "The Blitz," co-hosted by popular radio personality Adam Schein and former Super Bowl quarterback Rich Gannon, heard exclusively on SiriusXM NFL Radio. Joe caught the interview in progress.
Adam Schein: How important is it to get LaGarrette Blount back after the bye?
Raheem Morris: Very important without Earnest [Graham]. Not sure we can find anyone who can replace Earnest. Blount is a good runner. At least we will have him back.
Rich Gannon: Coach, you threw the ball 51 times with Josh. I know those are not the numbers you want. Tell us about his decision-making. Are you concerned?
Morris: Yeah, throwing 50 times for us is not conducive. We want to spread it around. [Freeman] is going through some growing pains with his progressions and his reads and not throwing balls [in traffic]. But we need people to make plays. Those things cannot happen. We've had dropped balls, balls being batted down. Those are plays we have to avoid.
Schein: Without question, you know what I think of Josh. I think he played better last year than he has this year. When you look at it, why is that the case?
Morris: I think it's safe to say that his MVP award is premature. We have to get him back on the playing better format. Not all of it is on Josh. But some of the playmakers around him, they have to protect him better, make plays, get some turnovers to give him a short field.
Gannon: What happened on the run defense?
Morris: We had three plays where they hurt us on the run. Otherwise, we played well. But getting getting 93 back in the middle, he's the plugger that will help us. Outside of those three runs — that put the stats out of whack. That's why I say stats are for losers.
Schein: I know you are a company guy and I am being serious, I appreciate that. A game in London means a lot to the owners in the NFL. But you didn't have a home field advantage. You are in a dogfight for the wild card. You only have seven home games this year. Are you concerned with how that affected your team to get into the playoffs?
Morris: That's all gray matter, that's excuses. Right now we are a half-game out. We need to be ready to go. The Saints racked up 60 points the other night. Maybe we will look back in a couple of years and cry but as the leader of this organization, I will not let excuses come into play.
Gannon: What will the focus be? The team is coming off a bye week at 4-3. What will you do as a staff?
Morris: The first thing is, you have to look at the penalties. Way too many. We are 4-3 and we have to play hard in the second half. All hands on deck. We will finish and see what we can do to be our best self. On defense, we need to make plays.
Schein: Do you trust Aqib Talib as a ballplayer?
Morris: No doubt about it. It was the way that young man stood up and took care of the last three plays [after his personal foul late in the Bears loss]. To watch him crawl after a defender in those last three plays, that's the kind of defender we want. But that penalty falls on the head coach.
Gannon: Has Josh taken on too much responsibility? You feel like he is trying to do more?
Morris: No doubt. That is a mistake by all young quarterbacks. That's the sophomore jinx. He is trying to put the world on his shoulders and he doesn't need to do that. If we don't turn the ball over, we win, no doubt in our minds. We'll keep working to be a finished product. Just have to get better in small aspects of the team and grow.
Schein: Coach, thanks for calling in after such a tough loss and the long travel, we appreciate it.
Morris: I'll tell you what: Just talking to Schein and Gannon, I feel better already.