Too Many Fans Taking On Loser Mentality
October 30th, 2011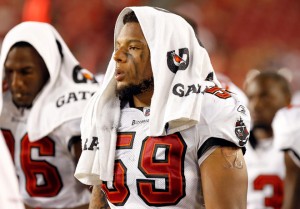 Joe's talked to a lot of Bucs fans over the past week and many have told Joe they'll be happy if the Bucs only lose two out of the next three games (at New Orleans, home for Houston, and at Green Bay).
The thinking is the Bucs would then emerge at 5-5 with an easier schedule in their final six to close the season.
Frankly, this makes Joe want to puke. What kind of loser mentality is that?
Sure, the Bucs could sit at 5-5 and then finish 9-7 or 10-6 and not make the playoffs, and lots of people would embrace that as the next step in the "lasting contender" era. But the Bucs have a real shot here to win two of the next three and potentially take the franchise to another level.
At some point good young teams and great coaches break through to the playoff level. For Joe, this is as good a time as any. The Bucs already have proven they can beat good teams this season (Atlanta and New Orleans.)
The Bucs should get Blount back and get healthier over the bye, and they have time for the coaches to fix what's left them just short in two losses.
Joe's not going to sit around and cheer losing two of three.