"They're Not Stupid; They Do Their Homework"
October 2nd, 2011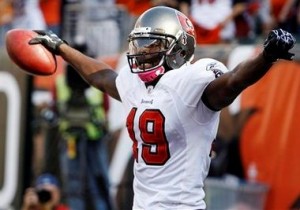 Joe thought this Mike Williams non-issue was history last week after reporting Josh Freeman's take on Williams drawing heavy coverage and even getting triple-teamed at times this season.
But it seems that Pat Yasinskas, NFC South blogger for ESPN.com, doesn't have Joe on his daily reading list. During a live chat Friday, Yaskinskas wrote he buys in to the notion that Williams is somehow experiencing a bit of a sophomore slump.
redzonejones (New York): Is it safe to say Mike Williams is experiencing a sophomore slump?
Pat Yasinskas: Somewhat, but I think part of it can be blamed on them not having a lot else at WR. He's been drawing a lot of coverage.
Joe's not on board with Williams slumping at all. The Bucs finally decided throw slant passes to Williams last week, which were a big part of his game in 2010. A motion penalty by Arrellious Benn also nullified a Williams touchdown on a deep throw in Minnesota. For Joe, there's no evidence of Williams falling off.
Wednesday on The Josh Freeman Show, on WDAE-AM 620, Freeman took issue with the whole topic.
"They rotated coverage to Mike. They ran a coverage where they doubled Mike and doubled Kellen. … They're not stupid. They do their homework," Freeman said of the Falcons and other teams. "They know where we're trying to go with the ball. They know who are playmakers are. They're going to do everthing they can to limit the amount of touches that our gamechangers can get."
Expect plenty more smothering coverage of Williams from the Colts. Unless Benn can prove reliable and consistently dangerous downfield, it'll be that way all season.