THE OPTIMIST: Defense Improvement Is Clear
October 31st, 2011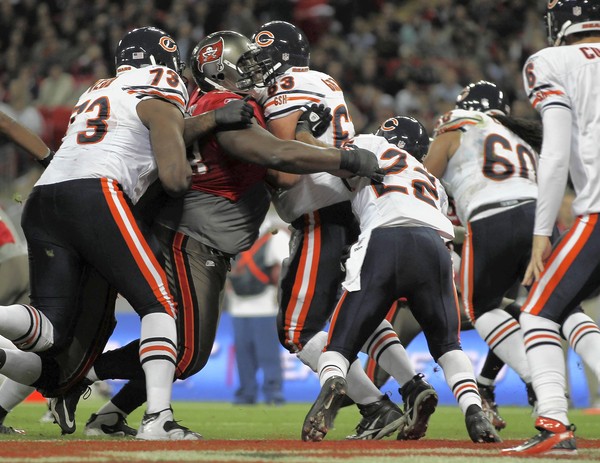 You've all read THE PESSIMIST, who spews his Bucs-related anger like no other. But Joe also brings you THE OPTIMIST. 
THE OPTIMIST is Nick Houllis, a Bucs fan and an accomplished writer whose steadfast allegiance to the Buccaneers goes back to the 1970s. Houllis is the founder, creator and guru of BucStop.com, a place Joe goes to get lost in time via Houllis' stunning video collection.
THE OPTIMIST will shine that positive light in your eyes. Some will love it. Some won't.
We're one game away from the halfway point in the Bucs' regular season and so far, at least, the team strategy is starting to take form.
The Bucs spent the first two picks of the 2010 NFL Draft on defensive tackles Gerald McCoy and Brian Price. McCoy played last year until his Week 11 injury that cost him his season. Brian Price only got into a couple games last year as he had a freak injury, but he's back and thriving and should finish up the year alongside McCoy, who is due back from an ankle injury on Sunday.
This year, the Bucs spent their top two picks on defensive ends, and that is paying dividends almost immediately. Second round pick Da'Quan Bowers is coming along nicely, but top selection Adrian Clayborn is leading the team with three sacks.
That ranks him 28th in the NFL, but last season, no one from the Bucs even made the first page. The top sack man in 2010 was Stylez G. White and Clayborn needs only 1.5 sacks the rest of the way to equal that mark. Clayborn has actually come on fire lately, and he could easily break Lee Roy Selmon's rookie record of five QB takedowns set back in 1976.
But football is a team sport, and stats are for losers, right? Well, our Bucs have improved in D-line play as a team, too.
Statistically, the Bucs are ranked 28th in total yards against, 26th against the pass and 22nd against the run. Out of 32 teams, they are 23rd in sacks. In the running game, they are 18th in allowing 4.5 yards per play.
In 2010, the Bucs were 28th against the run, giving up 132 yards per game. So far this year it's 123 yards per game. But instead of being 23rd in sacks, last year they were 31st out of 32 teams. Only Denver was worse.
Not only that, but in three of their seven games this season the Bucs have held the opposing offense to under 100 yards combined rushing. In 2010, the Bucs only had four games all year that they didn't give up over 100 yards rushing. Clearly the defensive line is making a difference.
Middle linebacker is also an improvement this year and responsible for the Bucs slight but still apparent move up the charts.
It may not be earth-shattering, but the dominant Bucs defense of old wasn't built overnight, either.