Tanard Jackson Gets A Contract Extension
October 27th, 2011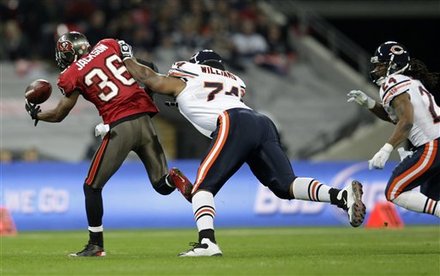 If asked what Buccaneers might have scored a contract extension from Team Glazer before the end of the 2011 season, Joe's quite certain nobody would have had Tanard Jackson's name on a short list — or any list.
The guy has now gone from the couch two weeks ago, serving the end of a year-long substance abuse suspension, to the playing field and the ATM machine, so reports Stephen Holder of the St. Pete Times.
Team Glazer not only locked up Jackson for 2012, he more than doubled his salary for this season.
The Bucs saw fit to make sure they kept Jackson around longer, approaching him with the contract extension last week. The new deal calls for Jackson to make a base salaries of $1.454 million this season and $2 million in 2012, according to figures from the NFL Players Association. Before now, Jackson's contract was scheduled to expire at the end of this season and he previously was on the books for $600,000 in base salary for 2011.
Smart move by the Bucs. No reason to risk letting Jackson walk after this season, not with Cody Grimm coming off major knee surgery. And surely Jackson won't see any cash if he gets suspended again.
The Bucs also probably got a good deal. If T-Jax keeps ball-hawking at his current pace, he'd surely be in demand around the league come March.