Nickerson Says Bucs Need A "Game-changer"
October 27th, 2011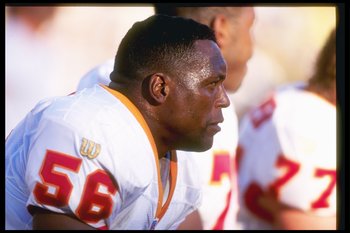 Seven years patrolling the middle of the Bucs' defense, five of them Pro Bowl seasons, former Tampa Bay middle linebacker Hardy Nickerson knows a thing or two about leadership and defense.
And to Joe's surprise, Nickerson, who lives in California and coaches high school ball there, said today that he watches every Bucs game and he and his son are "huge Bucs fans."
Speaking on the Ron and Ian Show on WDAE-AM 620, co-host and former Bucs guard Ian Beckles asked Nickerson what he thought of Barrett Ruud being characterized as a "finesse middle linebacker."
"I don't think you can get too far with a finesse middle linebacker. A middle linebacker's got to be a tough guy. You gotta be a tough guy," Nickerson said. "You gotta be the guy that's going to step up. You know, the old saying goes, 'You gotta step up and hit a guy in the mouth.' A middle linebacker's got to be that guy."
When asked what Buccaneer on the defensive front seven has a chance to be a superstar? Nickerson chose Mason Foster.
"I think Foster has a chance. You know, he's just a young kid. As he gets better, I think he'll find his niche,  find his playing style and define himself as he goes along here," Nickerson said. "I think he has a chance."
On the Bucs' defense in general, Nickerson said he's very excited by what the way the Bucs are growing and he thinks what's seriously lacking and needed is a true leader and "a game-changer" on the defensive front seven. Nickerson said he expects that player will evolve from the current group.
Nickerson wasn't asked during the interview, but Joe's wondering when No. 56 will get his Ring of Honor day? Five Pro Bowls under two very different Bucs defenses and the on-filed mentor for so many of the greats of the glory years. There shouldn't be any doubt.