"Stats Are For Losers Except Interceptions"
October 16th, 2011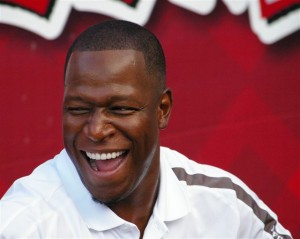 Joe pointed out that the Bucs were last in the NFC in interceptions yesterday, with only two through the first five games.
That lousy stat is out the window now, after Tanard Jackson, E.J. Biggers and Quincy Black picked off Drew Brees today.
As a result, the Bucs' former defensive backs coach and the man who says "Stats are for losers" several times a week changed his tune tonight during his postgame news conference. A smiling Raheem Morris said, " Stats are for losers except interceptions."
Bucs defensive backs were dropping balls left and right before today. Often times that's contagious.
It's amazing that the guy on his couch (or not on his couch) for the past year was the one with glue on his hands to make the Bucs' secondary dangerous again.