Saints Still Scared Of Josh Freeman
October 15th, 2011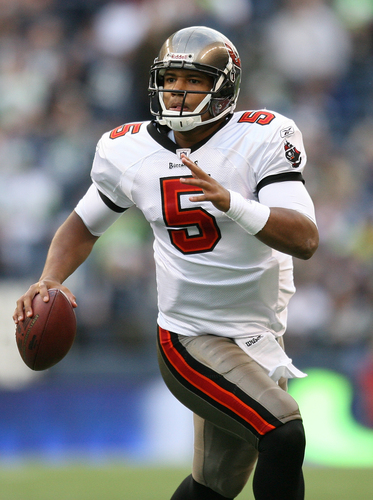 The Bucs offense is not what it was.
First, there's LeGarrette Blount, out with a gimpy knee. Before Blount became a major cog in the Bucs offense last year the Bucs rushing attack was Connie Chung-like. Actually, before Blount started, Joe is of the mind that the Bucs had no rushing attack.
Second, there is wide receiver Mike Williams, who classified his play this season as "terrible" earlier this week.
Lastly, there is quarterback Josh Freeman, whose touchdown-to-interception ratios is among the worst in the league, a drastic turnaround from last year when his same ratio was second in the NFL to Drew Brees.
But don't try to tell Saints defensive coordinator Gregg Williams Freeman is struggling. The long time NFL defensive guru believes no other player on the Bucs offense can hurt a defense more than Freeman, so he told Kevin Spain of the New Orleans Times-Picayune.
If there's a guy on the Tampa Bay offense that you're afraid of, who is it and why?

"What we do is we take a look at all the targets and we take a look at all their players. I think they've done a really good job of getting young and good players, but they have a lot of different guys. We don't just isolate on one, we try to surround the formation and try to play as hard and as fast as we can and minimize every inch of grass that we can. Sometimes that's easier said than done. This division has become such a great quarterback-driven division, and Josh (Freeman) has played very well against us. We have our work cut out for us again with having to play him this week."
It's a good thing Freeman has played well against the Saints. With no Blount, with Williams admitting he's not having a good year, it will take a fantastic game from Freeman for the Bucs to be able to knock off the current NFC South leaders.