Raheem Talks Niners
October 5th, 2011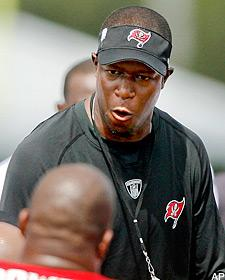 Joe puts in a lot of time absorbing all things Bucs, as well as all things NFL. And after listening to Raheem Morris talk to the San Francisco area media today, Joe felt compelled to share Raheem's chat with those sourdough-eating, wharf-strolling scribes.
The full audio is available here. Thankfully, the 49ers are one of only a handful of NFL teams that shares media conference calls with fans.
What's worth noting is how Raheem is able to break down — at Raheem speed — all things 49ers. It's a great listen, and good insight into the deep preparation of the head coach.