Raheem Morris Wants NFL Team In London
October 20th, 2011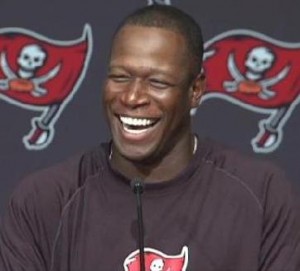 Wednesday afternoon, live from London, Bucs coach Raheem Morris made his weekly appearance on "The Blitz," heard exclusively on SiriusXM NFL Radio co-hosted by popular sports radio personality Adam Schein and former Super Bowl quarterback Rich Gannon. Naturally, Joe transcribed the interview for his readers. What, you would expect less?
Adam Schein: Here he is, the head coach of our Tampa Bay Buccaneers, the great Raheem Morris. How are you coach?
Raheem Morris: I'm doing great. I'm not sure about being "the great Raheem Morris," but I will take it.
Rich Gannon: On the trip to London, I know that is not easy to do. The last time you went much lighter. This time you are packing heavy for the week. Why change?
Morris: I wanted to get my guys acclimated to London, get them some rest. I don't want them to get caught up in the schedule. Today is the first practice we've had on the pitch. They had a great time out there. We wanted to take them out of their comfort zone and get the team to deal with changes.
Schein: You like this concept?
Morris: I really do. It's good for our team. It gives me a nice trial run to do this at some point in the future. It's the best feeling in the world. It gives us the training camp feeling right before our bye week. It's good for the team. It's good to have them in a school environment. When they get to Wembley [Stadium], they'll get to be like gladiators.
Gannon: Being in London, the fans, they get really excited about the extra points and the field goals, they love it – I'm not kidding.
Morris: You are right. They get fired up over the kicking game. That's part of their game; their football.
Schein: Raheem, what you said is great. It's a Super Bowl-like atmosphere, there is team-bonding. I get that. I think though, you lose a home game and that is unfortunate. Is there a downside to playing in London?
Morris: Yeah, our fans lose a home game but they are able to see us on TV. But anytime you get a chance to promote the NFL, it is good in that it is bigger than us. If I am allowed to promote and grow the game, it's great.
Gannon: Coach, how important was it to get back on track after the San Francisco game, the way you did it, no LeGarrette Blount, no Gerald McCoy? You had to do it with Earnest Graham.
Morris: It's the next man up mentality. The guys that filled in, Earnest Graham, Frank Okam, Da'Quan Bowers, they played hard and they played bad and they played smart and consistent. I liked it.
Schein: Raheem, I thought your team rallied against the Saints, I thought they persevered. How about Josh Freeman? He did an excellent job all four quarters. He was on point; he was dynamic. It was his best performance of the season.
Morris: It's funny that he is still 23 and is still getting better. He will continue to get better. He learned from each experience. He puts in the work and puts in the effort and I'm loving how he is getting better and better. I hope it's not his best game.
Gannon: You never want to see a coach get hurt. Your guy Jimmy Lake got hurt and then in the same game Sean Payton got hurt. It was ugly.
Morris: You don't ever want to see a coach get hurt but Jimmy Lake is toughing it out over here.
Schein: How were you able to get Drew Brees to turn it over time after time? I thought that was excellent. Your defense was clutch.
Morris: Stats are for losers. You know he will throw for 300 or maybe 400 yards. But you have to cash in your opportunities to get turnovers and that's what we did, every time. We had a good game against Brees. It was turnovers. Opportunity and technique met.
Gannon: Looking at the Bears, they are physical, like your team. But they are torn on offense. Mike Martz wants to put the ball in Jay Cutler's hands. Lovie wants the ball in Matt Forte's hands.
Morris: You can stop right there. Forte is doing everything for them. He's a tough player. Mike has a great background, you know, Greatest Show on Turf? Mike is able to transform an offense but sometimes they have Forte take over the game. In some situations we don't know what they will do. They can be hot.
Schein: Raheem, tell me, be honest, you are not going to kick to Devin Hester.
Morris: You never want to do that. We did a good job of keeping the ball away from Darren Sproles. But Hester, he is dynamic, he is hot and he is ready to roll.
Gannon: Your buddy, Rod Marinelli, he's doing a good job. Why are they so tough to run against?
Morris: It's their mentality, it's their core belief. They will use a seven-man box to stop the run. If they do, it's a long day. It's their core belief, not so much technique.
Schein: Raheem, did you see any improvement with your wide receivers?
Morris: I did, I challenged them. Whenever they caught the ball they let me know about it and they fed off the energy. They have to play with emotion.
Gannon: Coach, talk about logistics and playing this game so far away from home and setting up shop. This has to be difficult.
Morris: No doubt it's difficult but my staff has done a great job. They set this up completely. Our offices are here. They have formed a training camp-like atmosphere.
Schein: Will we have a team in London or a Super Bowl in London?
Morris: I don't know but I hope so because if that is the case, that means the league is growing and there are more jobs. I am always looking for growth of the game and the NFL.
Gannon: Have you seen the sights?
Morris: Not yet. We have been grinding away. Maybe later in the week I will get out and eat and do some touring. You guys are my motivation. I love talking to you.