"I Told You The Kid Could Go"
October 19th, 2011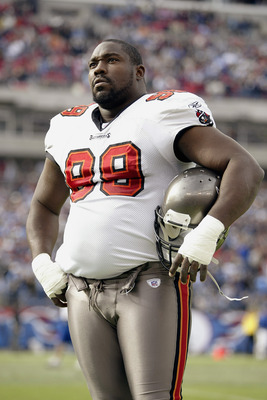 Always entertaining and high-energy, Warren Sapp took to the local airwaves to talk all things NFL today.
Speaking on The Ron and Ian Show on WDAE-AM 620, Sapp explained that he doesn't watch pretty quarterbacks drop back to pass when he watches football games, he watches the "trench warfare." And Sapp is excited by what he sees from Bucs defensive linemen.
Mostly, he said, because the line's success has been a total-unit effort, inluding the guys rotating in. Sapp gushed over No. 71 (Michael Bennett's name escaped him) and he had praise for Brian Price and Adrian Clayborn. 
"I told you the kid from Iowa's a nightmare. … I told you the kid could go," Sapp said of Clayborn. 
Sapp liked what the beating from San Francisco did for the Bucs, saying it "refocuses a young ball club on the task at hand."
"I love  this team. They're so young and mindless that they don't know what it was in San Francisco," Sapp said. 'Ok. It's something we needed to learned. We learned it.  Now let's go on.'

"I think that's the best thing about them. They're not going to drag anything with them. They're ready for the next challenge. They're ready to see that next opponent."
Pressed to make season predictions, Sapp said the Bucs will make the playoffs and the Steelers won't.