Raheem Loves His Punter
October 17th, 2011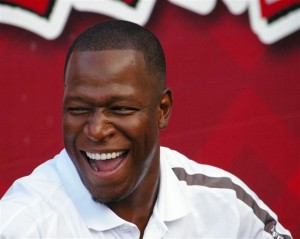 Leading 20-7 yesterday with about 1:30 left in the first half and the ball on their 45 yard line, the Bucs threw three consecutive incompletions to Kellen Winslow rather than trying to pound the ball on the ground.
The latter likely would have kept New Orleans from getting the ball back with enough time to score before intermission. But the Bucs chose the riskier path — what were they thinking? — and with 55 seconds left, punter Michael Koenen dropped a gorgeous punt out of bounds at the New Orleans 2 yard line.
Drew Brees then proceeded to march the Saints 84 yards, which set up an end-of-half field goal for the bad guys. The Bucs probably allow a touchdown there if not for Koenen's stud punt, something he rips off routinely — and something Raheem Morris appreciates immensely.
"[Koenan] absolutely did a great job keeping the ball away from [Darren] Sproles. He's been an MVP the whole season. He's gotten game balls. I don't know if I can give him enough for what he does for us," Raheem said after the win. "Changing field position, that one big bomb [late in the first half] he got out of there for us. All those things, you know, it's definitely been a winning edge for us this year."
Koenen's surely been worth the many millions the Bucs paid him in free agency. Imagine if the Bucs could pick another couple of standout free agents like that for next season.