Ominous Number For Bucs
October 7th, 2011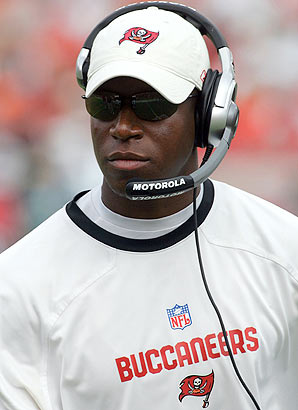 Joe's heard various analysts spit out a stat this week on how teams perform in road games following appearances on Monday Night Football. And, of course, that's the Bucs' situation as they're in San Francisco for a 4 o'clock kickoff Sunday.
While Joe hasn't seen any official number, Joe keeps hearing that teams only win in that scenario 11 percent of the time.
Ouch. That's one telling stat.
However, Joe thinks the Bucs are such a bizarre, non-traditional team, that you can throw that ugly number out the window. The Bucs are too young to be tired, and it's too early in the season for fatigue to effect a young team. Hell, LeGarrette Blount got Week 1 off. Plus, these Bucs seem to have no issues on the road.
Joe prefers to look at this game as another challenge to the defense to keep stuffing the run and handle a more physical offense. If the Bucs do that, Joe will take his chances against Niners quarterback Alex Smith, even if he has been hot.
As Derrick Brooks said on WDAE-AM 620 Wednesday, winning on the road usually means you got off the field on third down. That's probably the key to this game, assuming the Bucs don't waver from feeding Blount.