Not Looking Good For LeGarrette Blount
October 12th, 2011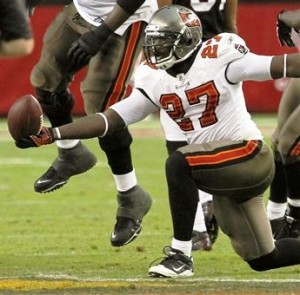 The Bucs are starting practice today and word from the locker room from two different sources suggest the skies are dark for Bucs running back LeGarrette Blount playing Sunday.
Woody Cummings of the Tampa Tribune, Twittering on the TBO Bucs Twitter feed, along with Stephen Holder of the St. Petersburg Times, suggests word in the Bucs locker room paints a troubling picture of Blount's near-future status.
@TBO_Buccaneers: No sign of either DT Gerald McCoy or RB LeGarrette Blount at practice today and the talk in the Bucs locker room is neither will play.
@HolderStephen: Sense here at 1 Buc Place is that Gerald McCoy and LeGarrette Blount are likely out this week vs Saints.
How important is Blount to the Bucs offense? Joe believes the Bucs could survive without Josh Freeman for a period of time, but not without Blount.
If Blount cannot suit up against the Saints, the Bucs are screwed.