Inevitable Tiki Rumors Coming
October 23rd, 2011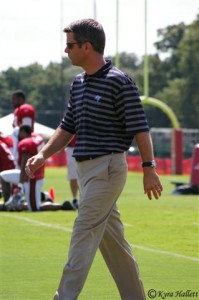 LeGarrette Blount has missed two games now with a knee injury, and the Bucs haven't served up a lot of detail about it, especially consdering Blount is a star player.
The most definitive report out there — one that sure seems on the money now — was from J.P. Peterson of WQYK-AM 1010, who a few days after the injury had a doctor on his radio show that claimed he saw reports on Blount and said Blount had a Grade II MCL tear and would be out several weeks.
Now Earnest Graham hopped off the field in London today with what FOX broadcasters said was an ankle injury. It sure looked bad. (ProFootballTalk.com is reporting Graham is blew out his Achilles and is done for the year.)
And Kregg Lumpkin is, well, Kregg Lumpkin.
So with the bye week now upon the Buccaneers, it only makes sense that rockstar general manager Mark Dominik will look to bring in another running back, preferably one with experience that can get up to speed quickly and help the Bucs win a game.
"Next man up" is a great credo, but the Bucs need another talented horse.
It's inevitable that retired/unretired Tiki Barber's name is going to surface as a possibility. Joe had no use for the idea before the season when Tiki decided he wanted to get off the couch and try to fatten his wallet. It was preposterous then for the Bucs, who seemed to be just fine with the chance to have Graham, Blount and Cadillac Williams on the roster.
But desperate times call for desperate measures. Joe's not sure why the Bucs wouldn't at least look at the guy this week. In Joe's mind, the Bucs have an emergency need and everything's on the table.