Faine Says Blount Looked Healthy
October 11th, 2011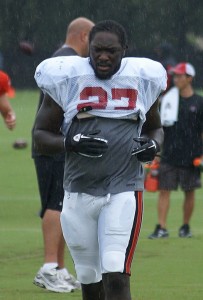 As Bucs fans collectively hold their breath wondering whether LeGarrette Blount can wear a helmet Sunday, Jeff Faine offered encouraging words this evening.
"I'm feeling like we should see him out there Sunday … based on how he was acting [after the game.] Faine told J.P. Peterson on WQYK-AM 1010.
Faine went on to remind listeners that he's not a medical professional and to explain that Blount was walking around like all was well as the team traveled home San Francisco. An official update on Blount will come from the Bucs tomorrow.
Frankly, Joe isn't the least bit curious what the Bucs would look like without Blount. Joe saw enough of that nightmare when Cadillac Williams grinded out 2 1/2 yards a carry last year.
(Joe hates to tease, but Joe also will serve up interesting comments from Faine tomorrow.)