Blount Back For New Orleans
October 26th, 2011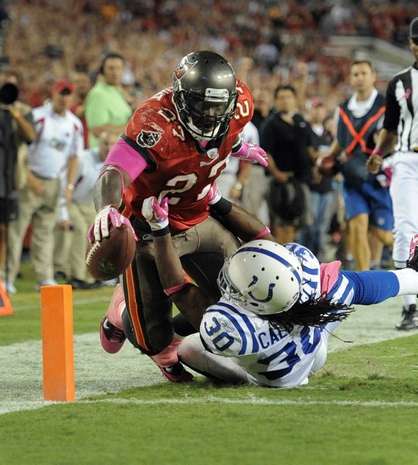 Of all the comments from Raheem Morris today, the most important was the confident talk about a return of LeGarrette Blount for the Bucs' next game in New Orleans.
Sure, the Bucs beat New Orleans without him 12 days ago, but with Earnest Graham out of the season, there's no question the Bucs might not win another game this season without Blount.
The good fellows at TBO.com listened to Raheem and took notes.
"We lost 'Insurance' Graham, but we'll get Blount back after the bye," Morris said. "We've also moved up (rookie running back) Mossis Madu. I'm feeling really confident about Blount. He looked good last week and he looked better today. He'll have another week of rest and he'll get a bunch of treatment and be ready to go downhill … here we go."

Morris said he expects defensive tackle Gerald McCoy (ankle) back for the New Orleans game, along with center Jeff Faine (biceps). He said center Jeremy Zuttah (knee), rookie middle linebacker Mason Foster (ankle) and safety Tanard Jackson (hamstring) may all be available to play at the Superdome.
With Blount's return, Bucs fans should be praying for at least the return of Zuttah or Faine. Joe's going to need a case of Tums at the ready if the Bucs are forced to start Ted Larsen at center and Derek Hardman at left guard.