Allen Bradford Released
October 13th, 2011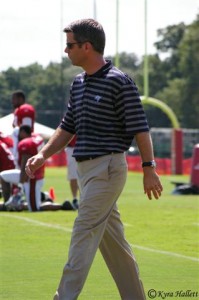 LeGarrette Blount goes down and out with a knee injury and the Bucs cut rookie running back Allen Bradford?
It's true, so Twittered Rick Stroud, the St. Pete Times beat writer.
@NFLStroud – Bucs release RB Allen Bradford has been released by the Bucs.
Presumably, the move was made to create a roster spot for safety Tanard Jackson so he can play Sunday against the Saints, only six days after ending his 56-week suspension for substance abuse.
Perhaps the Bucs bring back Bradford on their practice squad, but as of now 2010 fifth-round pick Ahamad Black is on the practice squad despite the Bucs' multiple injuries in the secondary, Bradford is in limbo, and seventh-round tight end Daniel Hardy was cut long ago.
It's a lot harder to make the young Buccaneers and/or rockstar general manager Mark Dominik didn't belt late-round home runs this year.