Adrian Clayborn A Throwback
October 30th, 2011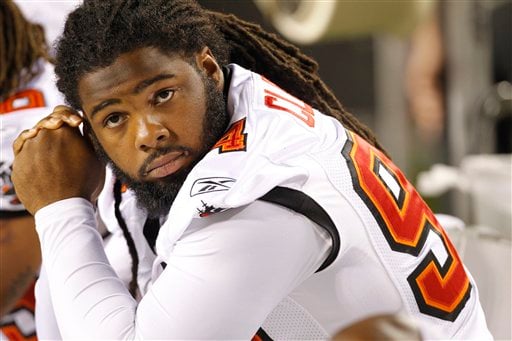 Since former Bucs right defensive end Steve White left the Bucs, the team has had a string of pass-rushing specialists at right end for over a decade.
As Scott Reynolds of the PewterReport.com points out, if the right defensive ends — Simeon Rice, Gaines Adams or Stylez (nee, Greg) White were able to get a tackle, that was icing on the cake.
But Adrian Clayborn is a throwback.
Clayborn's three sacks lead the Buccaneers heading into the bye week. His three QB captures are third amongst rookies in the NFL behind Denver's Von Miller (six) and San Francisco's Aldon Smith (5.5). Clayborn's toughness against the run has helped improve Tampa Bay's once porous rushing defense.

"I consider myself a football player not just a pass rush guy," said Clayborn. "I like both sides of the game. I think [defending the] run is more fun than pass [rushing]. I like kicking an offensive lineman's *censored*. That's fun to me. I like both sides.

"We've been doing a better job of stopping the run and then getting after the quarterback. We're not thinking so much. We're just playing out."
The thing that Joe loves about Clayborn is he plays like a man possessed on the field but once he is off the field, he is as kind, soft-spoken and self-effacing of ego as one can find among NFL players. He really is a gentle giant.
If Clayborn can rack up a couple of bone-rattling sacks Sunday like he buried Matty Ice with earlier this season, Clayborn will be a legend around here.