"They Panicked"
September 12th, 2011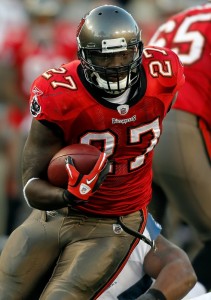 Moments after the Bucs-Lions game ended yesterday, Joe wrote about the ridiculousness of LeGarrette Blount only having five carries despite a very tight game on the scoreboard for most of the day.
Today, former Bucs quarterback Shaun King said of the Bucs abandoning Blount and the running game, "They panicked."
And Raheem Morris offered a rather similar take today during his news conference saying the offense the Bucs need to be successful starts with Blount bludgeoning people, racking up yardage and setting up play-action passes.
"Maybe as a coach I went too early to the two-minute offense," Raheem said.
Interestingly, before Blount was a starter last year, the Bucs pounded Cadillac Williams over and over again despite little success. Cadillac had 49 carries for 126 yards over the first two games. The consensus from the Bucs' coaches was that it had to be done.
So what happened yesterday?