Raheem Fingers "JoeBucsFan"
September 12th, 2011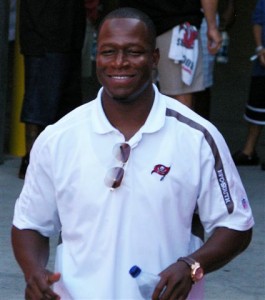 Joe's writing this post for two reasons:
To set the record straight for the local media that is bound to come here on a fact-finding mission regarding Raheem Morris' comments today, and to address the fans ready to label Joe a snitch once again.
Speaking at his news conference today, Raheem was asked about the supposed punishment that might be crashing down upon him from the NFL for allegedly communicating with players during the lockout. Raheem explained a bit of what happened and then chose to point a finger at JoeBucsFan.com. Here is his verbatim quote:
"Yeah, I called Kellen [Winslow] to say, 'Congratulations on your new baby'" Raheem said. "I haven't heard any reports about, I heard the rumors about the fine and all that type of stuff, but I haven't gotten anything from the league.

"Yeah, I called Aqib when he [went] to jail. I called Kellen when he had a baby. Thanks JoeBucsFan for talking about that and getting my phone records checked. I appreciate that."
Joe encourages fans and media to read the original story here.
The facts are that Raheem talked about speaking to players during the lockout on the Buccaneers' flagship radio station, WDAE-AM 620, during a heavily promoted live sit down with The Big Dog, Steve Duemig, the top rated sports show in the Tampa Bay market. Communicating with players came out while Raheem addressed a fan calling in.
Now surely the Bucs were listening, as they monitor all of Raheem's public appearences. Duemig was listening. And Raheem spoke clearly and directly. He surely knew what he was saying. There was no attempt made to clarify the coach's comments after they were made.  The radio station posted the podcast. And Joe reported the exchange two days later, praising Raheem for likely doing what all head coach's were doing to get an edge.
Joe understands, in theory, why some fans might think Joe did a misdeed and didn't protect the Bucs and used poor judgement. Some even think Joe played "gotcha" with Raheem, which is ridiculous since Joe reported it two days later. And Joe knows every beat writer in town would never not listen to the head coach on live radio during a one-hour sit down.
The fact is, Joe simply regurgitated what was heard by about 50,000+ listeners, even more podcast listeners, and effectively approved by the Bucs.
If that's being a bad fan, well, expect Joe to do it again to serve his readers. Joe follows a simple rule. If it's Bucs-related, and Joe thinks it's interesting, then Joe writes about it.
Joe will say that months ago Raheem and Joe had a passionate conversation about the original report face to face, like real men, with nobody else around and no recorders running. That conversation will remain private.