Report: Bucs Pursued Sproles, Bush
September 23rd, 2011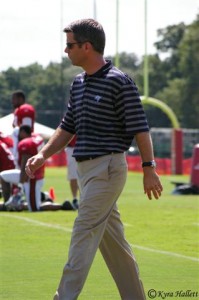 Wait a minute.
What was rockstar Bucs general manager Mark Dominik doing sniffing around speedy, expensive outsiders this offseason when he had Kregg Lumpkin and Earnest Graham locked and loaded in the backfield?
Per an intriguing take from NFC South blogger Pat Yasinskas of ESPN.com during a live chat today, the Bucs went after Reggie Bush and Darren Sproles "a little bit" but didn't like the cost. 
Nick (Melbourne FL)

Any reason you can think of that the Bucs did not pursue Darren Sproles? Their 3rd down back situation has 200 year old Earnest Graham there with Kreg Lumpkin a relative no name and surely the Bucs could have outbid the Saints. Please don't talk about their youth movement. Us fans are sick of the Glazers penny pinching ways.

Pat Yasinskas: From what I know, the Bucs at least did pursue Sproles (and Reggie Bush) a little bit. But they didn't like the price tag on either.
Now the Dolphins traded for Reggie Bush, and Joe's no big fan of him anyway. But Sproles? He signed with New Orleans as a free agent for just a few million bucks a year, and he had a reputation for being an outstanding blocker in San Diego, in addition to his other talents. Joe would have loved to see that guy wearing pewter.
Joe assumes at least part of Yasinskas' report is accurate. And if Dominik saw a need for that kind of player, why didn't he fill it?