Raheem Investigated For Lockout Communication
September 12th, 2011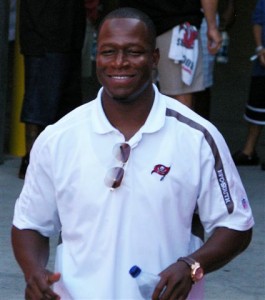 Details are sketchy and so are the league rules, but it seems the clear the NFL is scrutinizing Raheem Morris' communication with players during the NFL lockout.
Jason LaCanfora, of NFL.com, a man who's got all the sources he could want, delivered the news yesterday just before opening-day kickoff.
The NFL was investigating seven instances of contact between Bucs players and coaches, according to the team source, but three of the calls were less than a minute long and could have been hangups or never completed. One call was between coach Raheem Morris and TE Kellen Winslow to wish him well on the birth of a child. And the longest conversation was between Morris and a player who didn't make the team.

The NFL alerted teams they must log calls and contact with players during the lockout and that league officials could look at those records after the lockout was over. Privately, other executives from rival teams believed that quotes from Morris and others indicated an illegal amount of activity with their players at that time.
When Joe saw this, his first thought was, if the league demanded teams to "log calls and contact with players," then obviously various kinds of contact was permissable. So Joe's not sure where this whole thing might go.
As Joe wrote previously when he reported that Raheem referenced contact with players on live radio, Joe expected all head coaches were talking to players this offseason, especially those close with players like Raheem.
But one might think if a coach was cheating he would use one of those mysterious cheap cell phones you can get at 7-Eleven to contact a player — something outside the traceable net of the NFL.
But again, if various communication with players was OK, then maybe Raheem had nothing to hide.