"Pop And Sizzle"
September 28th, 2011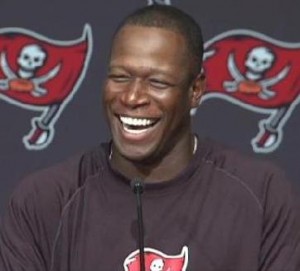 Monday, Bucs coach Raheem Morris made his weekly appearance on "The Blitz," co-hosted by former NFL quarterback Rich Gannon and popular sports radio personality Adam Schein, heard exclusively on SiriusXM NFL Radio.
 Naturally, Joe recorded this and transcribed the appearance for your reading and dancing pleasure.
Adam Schein: Coach, what a win, how are you?
Raheem Morris: Hey man, I feel great. The pressure of wins and losses have gone up greatly because of my appearances on "The Blitz" so I credit you guys for making me have the will to win these football games.
Rich Gannon: Coach, I know it was not pretty at times but it's great to have a win over a team that you have not had luck with in your own division.
Morris: It's good to get the winning ways in our division going again and it is a step in our goal of winning the NFC South. It is a major deal to beat guys in our own division, especially in our house.
Schein: I agree with you that it was a major deal. I know you were honest with us last week — I don't think it was coachspeak — when you said, 'I can't call this a rivalry because since I have been coach they have whipped our butts head-to- head, they have beat us head-to-head.' This is a game that I think your team had the right intensity, the right mentality, I thought the crowd in Tampa was amazing. I think the fans fed into that. You know Raheem, I am being serious, I buy into your football team, that was a real moment for you. If you lose, the naysayers say, 'Oh, Tampa, they overachieved last season.' You win and it is, 'Tampa is legit. Tampa is in the landscape of the NFC.'
Morris: Yeah, I kind of agree, it was a coming of age moment for us. When you want to win home games defend your home, get the crowd into things, get them cheering on third downs. The defense was playing really well and the crowd was into it. It was like old school Tampa Bay Buccaneers, playing defense, running around, hustling and hitting. We're getting better. At times a little bit it's ugly as you said. But to be able to go out there and execute our four minute offense, run with power consistently right at the Falcons, that was a big time statement. No better way to run three times in a row in a victory formation.
Gannon: Lets talk about your rush defense. You held them to 30 yards on 15 carries and your defensive line played consistently across the board. You had four sacks and took the ball away four times.
Morris: I don't necessarily buy into the theory that each week you have to stop the run. I'm more into a situations. What must we do to win the football game and yesterday was stopping the run. We had our guys play man-to-man coverage against some very talented receivers. When the defense had to stand up and stop the run we were able to stop the run and get the ball back. Watson and Clayborn were forcing fumbles. They played big and it was awesome to see.
Schein: It was a tremendous effort, especially in the fourth quarter, out of your team this year against a Falcons team with a bevy of weapons. How do you bottle this up and get this type of execution from your defense in the fourth quarter week in and week out?
Morris: I'm not sure that was our best fourth quarter defense because when we had to come back against Minnesota we had to play some big time defense. Certainly it was the best start on defense that we had, we get a sack and a fumble. That was phenomenal to get to the quarterback and he had to be aware of us and worry about that. That we would make them kick field goals, the red zone battles were huge for us. We just have to play hard, smart, fast and consistent.
Gannon: Your thoughts on Julio Jones?
Morris: We did a nice job on him all day. We had Talib on him and he got a nice gain against our young safety, a big bomb when we went to Cover-2. But we gave him a man-to-man look and battled. On the other side, we had E.J. Biggers lined up with Roddy White and I give the edge to Biggers. White is a tough player but Biggers was right there and gave him competitive looks all game. Then we had the battle of the old guys. I had Ronde on Tony Gonzalez and he had a great day. I felt great about how they played.
Schein: Coach, it was a great win for your team all around. I thought your quarterback was clutch again but if I had to nitpick, you can still have some more pop and sizzle in your offense for four quarters. Takes us through that. Tell us what you saw both negative and positive.
Morris: You know Adam, I like that. I will use that in our meetings, pop and sizzle. We want a little more pop and sizzle and when you don't have that, you better be consistent. What our quarterback did early was recognize his problems. He was not throwing the ball with the greatest of accuracy but he made some easy throws. We got him some screens where he was able to get the ball into people's hands that could actually go out there and make plays. He did a nice job of adjusting and using his feet to pick up some third down conversions. He kept the other team's offense off the field which is the best defense you can have. We have to do a better job of red zone offenses and watch turnovers but he recognized what was not working we won by using his head. I love the way he is going and what he is developing into.
Gannon: I know you took a glimpse of the Colts. I'm sure you are excited to be playing on Monday night.
Morris: I'm excited to be playing in primetime. I got a chance to see the old boss. I get a chance to talk to him on Saturday. I get a chance to get him in here and run a good show for the old boss. He will be in the box watching us and I have to make him proud. I know this is a trademark of yours Adam, but I hope to give him some pop and sizzle.
Schein: I do think on two levels, yesterday was important for a win over the Falcons and it's rare that you guys are on primetime. This is a great opportunity on a center stage to announce on national television that you guys belong on national television and the Bucs will be a force all season long.
Morris: That was sort of my talk last night to the team. Our goals are to win the NFC South and to do that, it's impossible to ignore us and this is an opportunity to show the world what they are missing. I can't wait.
Gannon: How do you prepare [for Monday Night Football]?
Morris: We are rookies at this. We'll go with the normal Wednesday practice and Thursday and Friday and then we will double-down with a Friday practice on Saturday and have a walk through Sunday. We will try to execute our best plan to be our best self.