Bucs Paying To Build From Bottom Up
September 28th, 2011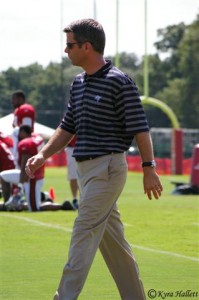 Rockstar general manager Mark Dominik loves his late-round gems and scrapheap finds. The Bucs are loaded with those guys, compared to other NFL teams, and they're prepared to keep them at all costs.
Last year, Bengals head coach Marvin Lewis had a temper tantrum when the Bucs paid Dezmon Briscoe to bail from Lewis' practice squad and head to Tampa. Now, says ESPN blogger Pat Yasinskas, the Bucs are making sure the guys at the bottom of their totem pole won't go anywhere. Here's one example:
"But the Bucs now have topped that. Apparently, the team has a very high opinion of practice squad defensive end George Johnson. After he was released at the end of the preseason, the Bucs quickly turned around and signed him to a sweet deal on Sept. 8. Presumably fearing they would lose Johnson to another team's practice squad, the Bucs signed Johnson to a contract worth $170,000. The typical practice-squad contract is for $96,900.

"But the Bucs renegotiated Johnson's deal on Sept. 13, according to contract records obtained by ESPN.com. That's when Johnson got a raise to $22,059 per week, which comes to $352,944 for 16 weeks. Johnson is being paid at the same rate as the minimum for players on the regular 53-man roster. If he had signed the new contract before the first game, he'd be making the $370,000 minimum …
You can read more by clicking through the link above. 
Speaking of practice squad types, the Bucs lost safety Cody Grimm for the season but safety Ahmad Black was not promoted to take his place. The Bucs promoted a tight end, Collin Franklin, and signed an offensive lineman to the practice squad.
What does that say for Black?