Penn's Got A "Totally Different" Test Coming
September 20th, 2011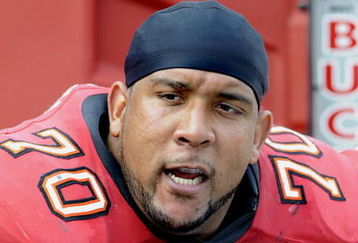 Looking at the 2011 schedule, Donald Penn couldn't afford to start slow. His assignments the first four weeks? Kyle Vanden Bosch, Jared Allen, John Abraham and Dwight Freeney.
That's a lot of Pro Bowls.
Speaking last night on Total Access on WDAE-AM 620, Penn said he's been working hard in the classroom to prepare and this week's challenge against Atlanta is nothing like what he faced in Minnesota.
"I had good luck with [Abraham] last year. … He's a totally different player than Jared Allen," Penn said. "Jared Allen is nowhere near as fast or gets off the ball as quick as John Abraham.

"Jared Allen doesn't have the explosiveness of John Abraham. Jared Allen is a great defensive end with using his hands and outsmarting an offensive tackle and using his inside moves and stuff like that. It's a totally different guy. I've got to worry more about the power move and more about the spin and his speed. It's totally different, but I'll be ready for it."
Joe thinks Penn, as usual, has fared pretty darn well through his first two tests of the 2011 season. He wasn't going to pitch a shutout against those four guys, and Allen's sack on the opening play Sunday was because Josh Freeman held the ball too long.
The last thing Joe's worried about for Sunday against Atlanta is the Bucs' offensive line. It's the defensive line that gives Joe night sweats. Those guys are going to have win a greater share of 1-0n-1 battles. The first sack of the season from one of those guys would be nice, too.