$250 Cash Giveaways At Derby Lane; $.99 Menu
September 5th, 2011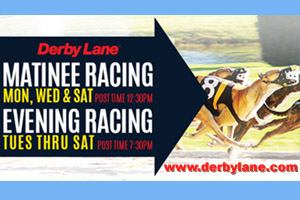 It's a lousy looking beach and barbecue day, so head on over to Derby Lane in St. Petersburg for spectacular live greyhound racing and 99-cent hamburgers, hot dogs and ice cream, and FREE cash!
Gates open at 11:30 a.m. and racing starts at 12:30 p.m.
After races No. 1 thru No. 10, Derby Lane will randomly draw a $250 cash prize winner! How sweet would that be in your pocket? You must be present to win.
Don't forget. Derby Lane has the best poker room in the Tampa Bay area and, in simulcast wagering, today is the final day of racing at the legendary Saratoga Race Course. Watch and wager on 2012 Kentucky Derby hopefuls in the Three Chimeys stakes. That race goes off about 4:50 p.m.
It's a great day of action at Derby Lane, one of Joe's favorite places.