Here Comes The Bucs' Spread Offense
September 9th, 2011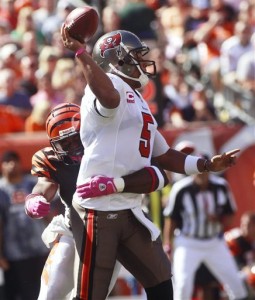 Obviously, the continued growth and maturity of Josh Freeman is a key to the Bucs' season.
How much better the guy can be after a 25-touchdown, six-interception season remains to be seen. But if Freeman truly is going to be one of the greats, then he should get even better this year all around.
Speaking today on the Ron and Ian Show on WDAE-AM 620, former Bucs tight end and current Buccaneers Radio Network analyst Dave Moore says fans should see the Bucs let Freeman loose if Sunday's game is a tight one.
"Expect Greg Olson and Raheem to go to that spread offense. We heard Raheem talk a little bit about that when we beat [inaudible]," Moore said. "Freeman played well in preseason, it was, when they decided to spread out, kind of like you would see New England do with [Tom] Brady.

"Spread out, have one guy in the backfield, kinda call plays as he sees the defense. I think they feel like Freeman's at the point mentally and in his maturity that he can handle conducting the offense out of a the shotgun and spread formation, something that is difficult to do with young quarterbacks."
Moore went on to say he expects the Bucs to pound the ball with LeGarrette Blount early in the game to keep Detroit's big pass rush off balance. And Moore says we'll see consistent double teams of Ndamakong Suh.
Regarding pounding the ball with Blount, Joe will believe it when he sees it. There were so many times last year when Greg Olson seemed allergic to that tactic.