Freeman Speaks Of "Triple-Teaming" Williams
September 22nd, 2011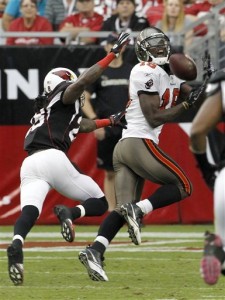 Thanks to Arrelious Benn's illegal motion penalty, Mike Williams had a brilliant touchdown catch called back Sunday and finished with one reception for -4 yards.
Sure, the Bucs could, and probably should, call more slants to force the ball into Williams hands, but Josh Freeman explains that defenses are keying on Williams and forcing him to look elsewhere. Last night on WDAE-AM 620, Freeman told a caller to The Josh Freeman Show what's not being seen on television. 
"It's not anything with me and Mike aren't on the same page," Freeman said. " The defenses know that Mike's a good receiver. You know, so they're rolling a lot of coverages to Mike. They're trying to double team Mike. They're trying to take Mike out of the game completely. And, when that's the case, you can't try to force it to Mike or you're going to get incompletions, you're going to get interceptions, bad things are going to happen trying to throw into coverage.

"That's something nobody sees, they don't see that they're putting a cloud corner and a safety over the top with linebacker help, basically triple-teaming, double-teaming Mike on every play. … It's really tough to get anything.

"So how do you combat it? You spread the ball around. You show teams that, 'Ok. Take away our No. 1, and we've got No. 2, No. 3, No. 4 and some got some great tight ends to throw to. So you guys are going to have to change that up or we're going to keep getting you.'"
None of this is surprising. There's a reason Williams' peers voted him the 80th best player in the NFL. Plus, Arrelious Benn has a lot to prove before defenses show him anything close to the respect Williams is garnering.
Joe's not concerned. If the Bucs can rack up 24 points in a half like they did Sunday, there's surely enough firepower out there.