Foster Says He Saw Greatness Immediately
September 28th, 2011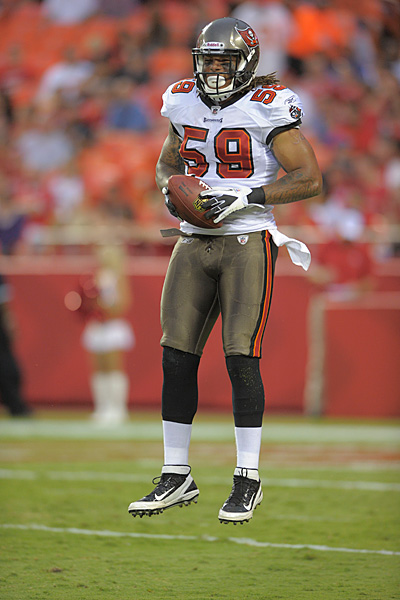 At some point, BSPN surely will pay one of its statistical gremlins to quantify the effects of player-only lockout workouts on the 2011 standings. But Mason Foster won't need that report to sell him on the value of those sessions.
Speaking Monday night on Total Access on WDAE-AM 620, Foster explained that his agent implored him not to attend the Bucs unofficial minicamp in Bradenton because he didn't have a contract and could get hurt. But Barrett Ruud's replacement showed up anyway for what was his first taste of the NFL.
"There was no way I was going to miss out on coming out and working with the team," said Foster, who had flown in from Washington.
Foster said what struck him was the seriousness of Buccaneers in the Bradenton weight room and how players listened to Josh Freeman. He said those factors told him the team was a contender.
Foster went on to say that now he enjoys the leadership role of calling the Bucs defense with linebackers coach Joe Baker in his helmet via radio transmitter. Foster said he believes leadership automatically comes with the role of mike linebacker and he's happy to take it on.
On the field, Ronde Barber "echoes" the defensive calls, Foster said. And Foster described a sort of hand-signal confirmation that he flashes to Baker, so Baker can be sure Foster's got the correct signals. Foster described a very smooth transition with calling plays.
Numerous times and numerous ways during the interview, Foster talked about his love for "hitting people." Joe suspects the anti-Ruud crowd hearing all that was in ecstasy.