Bucs "Little Concerned" About Josh Freeman
September 28th, 2011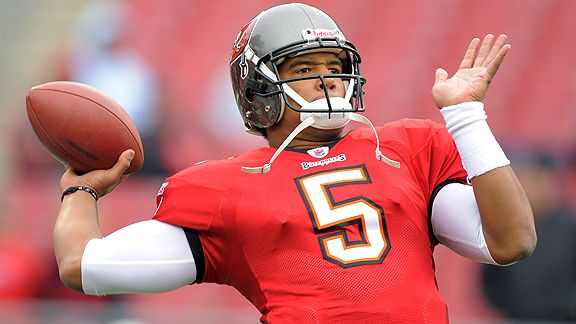 Last year Josh Freeman went from a quarterback with a number of question marks to an NFL elite.
Freeman had an astounding touchdown-to-pickoff ratio of 25-6, which is mind-boggling for any quarterback much less one who was in his first full season as an NFL starter.
Freeman came within a whisker of guiding the Bucs to the playoffs as the team lost a tiebreaker to the eventual Super Bowl champion Green Bay Packers.
Freeeman — as Joe's good friends at WTSP-TV Channel 10 like to refer to him as "Starship" — established himself as the king of comebacks, rallying the Bucs to fourth quarter wins. That continued this season when Freeman and the Bucs came back from a 17-0 deficit to beat Minnesota on the road.
But Freeman hasn't been as accurate this season and even Bucs coach Raheem Morris noted this in an interview with SiriusXM NFL Radio earlier this week, which Joe is transcribing for publication later today. Freeman's two interceptions in the red zone in the past two games demonstrate he's not yet locked in.
This, per Woody Cummings of the Tampa Tribune, moonlighting for SportingNews.com, has "Bucs brass is a little concerned."
Freeman did a superb job of recognizing opportunities and risks a year ago when he threw for 25 touchdown passes and just six interceptions. He has not been as sharp this year, and the Bucs aren't sure why.

It could be that Freeman is simply not picking up lurking defenders as well as he did last year or it could be that his confidence in his ability to make a play is so high that he's simply taking more chances.

Either way, the team needs to Freeman to play a little smarter. The Bucs are ranked 31st in the league in red-zone efficiency and Freeman's picks are a big part of the reason for that.
Naturally, if your starting quarterback is not accurate that's going to be an issue, no question. Joe's going to go out on a limb and suggest that Freeman is seeing all sorts of different looks and defenses flashed at him that he's never seen before.
Think about it. During the asinine lockout, coaches throughout the NFL had little to do but break down tape, both of NFL players and college prospects. Perhaps Freeman not just surprised NFL fans last year, but NFL coaches too?
It stands to reason that NFL defensive coordinators pored over Freeman's tape in the offseason to devise looks and schemes that would confuse the Bucs young leader, and his early-season struggles are part of that.