Vets Helping Rookies Cram
August 1st, 2011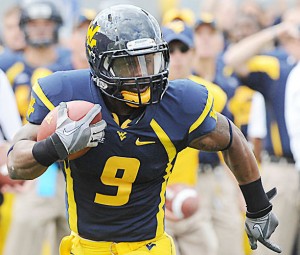 It's a dream of any young man to play for the team he grew up pulling for. The Bucs have two such young men. One is Lakeland's Ahmad Black, who the Bucs drafted.
The second player is wide receiver Jock Sanders, who played for West Virginia but is from St. Petersburg and tore up opposing defenses at St. Petersburg Catholic High School. What Sanders lacks in size — he's just 5-6, 185 — he makes up for in confidence.
"I know I can play in this league," Sanders said Sunday. "I knew I would get an opportunity somewhere. Now being with the Bucs, it's pretty much amazing."
What may be more amazing for Sanders and his fellow rookies is how much they have to learn in such a short time. Thanks to the asinine lockout, rookies haven't had much time to assimilate.
"The hard part is that we are all rookies and we are all of a sudden at training camp and getting playbooks thrown at us without having any OTAs and all of that. "It's a fast learning experience."
To get around that, Sanders admits that he studies by "staying up all night pretty much." But it's not like Sanders isn't getting any help. Many of the veterans, he said, have been like a combination tutor and grad assistant coach, drilling Sanders and helping him virtually all day, both on the practice fields, at One Buc Palace and back at the team hotel.
"The vets are helping us all out a lot, almost all the time," Sanders said. "I have a vet in my ear quizzing me the whole time."
Sanders specifically cited Dezmon Briscoe, Mike Williams and Preston Parker who have been like big brothers, doing whatever they can to make Sanders' learning curve not so steep.
"It's not just them, but all are helping me out a lot, helping us rookies learn the playbook," Sanders said. "They are helping us be part of the team."
Sanders isn't the only rookie getting loads of help from vets and it's not just offensive players. The Bucs first two picks in this spring's draft, Adrian Clayborn and Da'Quan Bowers have also noticed how the vets have taken it upon themselves to do what they can to get the rookies up to speed.
Bowers singled out Gerald McCoy and Kyle Moore for working overtime with him in order to get ready to play his first preseason game in less than two weeks.
"I don't know what I would do without Gerald," Bowers said.
Unlike Sanders, who was not signed, and Bowers, who worked out at Clemson University over the summer, Clayborn attended Josh Freeman's minicamp at the IMG Academies in Bradenton earlier in July. Finishing just his third day of training camp, Clayborn believed the IMG experience was invaluable.
So in a sense, Clayborn admitted he got a few weeks head start on many of his fellow rookies.
The IMG experience "helped a lot," Clayborn said. "It helped to get to know the players and to understand the schemes a little bit. It was good. It wasn't what the coaches are doing here but it was good.