"The Plan"
August 15th, 2011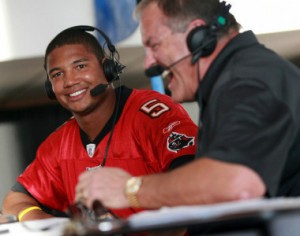 Joe has made no secret for his distaste — no, vile hatred — of the Soviet mindset of BSPN.
But when Joe sees this four-letter outfit do something good, Joe will recognize it.
(Once again, Joe applauds ESPN's coverage of college football which is simply the gold standard. If BSPN covered other sports with the passion, love, research and — dare Joe say? — the objectivity ESPN covers college football, the network would truly be something to behold like it was in it's first decade.)
Joe saw the E:60 feature on Bucs quarterback Josh Freeman and it is a job well-done. Damnit, this outfit has the tools and finances to pump out such pieces on a daily basis yet it prefers to wallow in filth that is the non-basketball association and the Yankees and Red Sox.
One thing Joe learned about the innerworkings of the Bucs selecting Freeman: Raheem Morris, who for one year was the defensive coordinator of Kansas State where Freeman played, thought for a moment he was too high on Freeman and may have his judgement clouded because of his association with Freeman.
So Morris called in longtime Bucs cornerback Ronde Barber and played tape of Freeman in college to Barber. Before playing the tape, Morris asked Barber, "Tell me if I am wrong."
After poring over the tape, Barber said to Morris, "No, you are not wrong."
In short, Freeman's success is all about what he calls "The Plan."